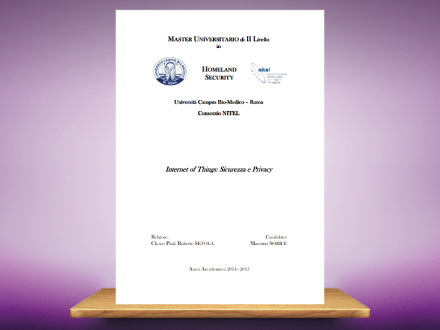 Tesi
Se la finestra non si espande in fullscreen cliccare qui.
Abstract
MASTER UNIVERSITARIO di II Livello in HOMELAND SECURITY, Università Campus Bio-Medico di Roma, Consorzio NITEL
TESI: Internet of Things: Sicurezza e Privacy
Relatore: Candidato: Massimo SORICE
Ch.mo Prof. Roberto SETOLA
Anno Accademico: 2014 – 2015
---
SOMMARIO
INTRODUZIONE
CAPITOLO 1 – L'INTERNET OF THINGS
1.1 LE 12 "DISRUPTIVE TECHNOLOGIES"
1.2 COS'È L'INTERNET OF THINGS
1.3 EVOLUZIONE DELL'IOT
1.4 IIOT – INDUSTRIAL INTERNET OF THINGS
1.5 GLI AMBITI APPLICATIVI IN ITALIA
1.6 LE TECNOLOGIE ABILITANTI
1.7 LA COMUNICAZIONE IN RETE – IPV6
CAPITOLO 2 – SICUREZZA
2.1 LE TIPOLOGIE DI MINACCIA
2.2 I PROBLEMI DI SICUREZZA
2.3 SECURITY BY DESIGN
2.4 THINGBOTS E DOMOTICA
CAPITOLO 3 – PRIVACY
3.1 PROBLEMI DI PRIVACY
3.2 PARERE N. 8/2014 IN MATERIA DI INTERNET DELLE COSE
3.3 CONSULTAZIONE SU IOT DEL GARANTE DELLA PRIVACY (G.U. N. 101 DEL 4/5/2015)
3.4 PRIVACY BY DESIGN
CONCLUSION
BIBLIOGRAFIA
SITOGRAFIA
RINGRAZIAMENTI
---
AUTORE
MASSIMO SORICE
Massimo Sorice ha frequentato l'Università degli Studi di Cassino e del Lazio Meridionale conseguendo la laurea specialistica in Economia, Management e Finanza d'Impresa con una tesi dal titolo "Exit, Voice & Loyalty sui social network". Nel 2015 ha conseguito, presso l'Università Campus Bio-Medico di Roma, il master di 2° livello dal titolo "Homeland Security – Sistemi, metodi e strumenti per la security e il crisis management".
Dal 1995 è nel mondo dell'Information and Communications Technology, dapprima attraverso società del gruppo IBM Italia, successivamente nella Pubblica Amministrazione, maturando una significativa esperienza professionale nell'analisi e nella progettazione di sistemi Web. E' esperto di modelli di processo prescrittivi ed in particolare del processo unificato di sviluppo software.